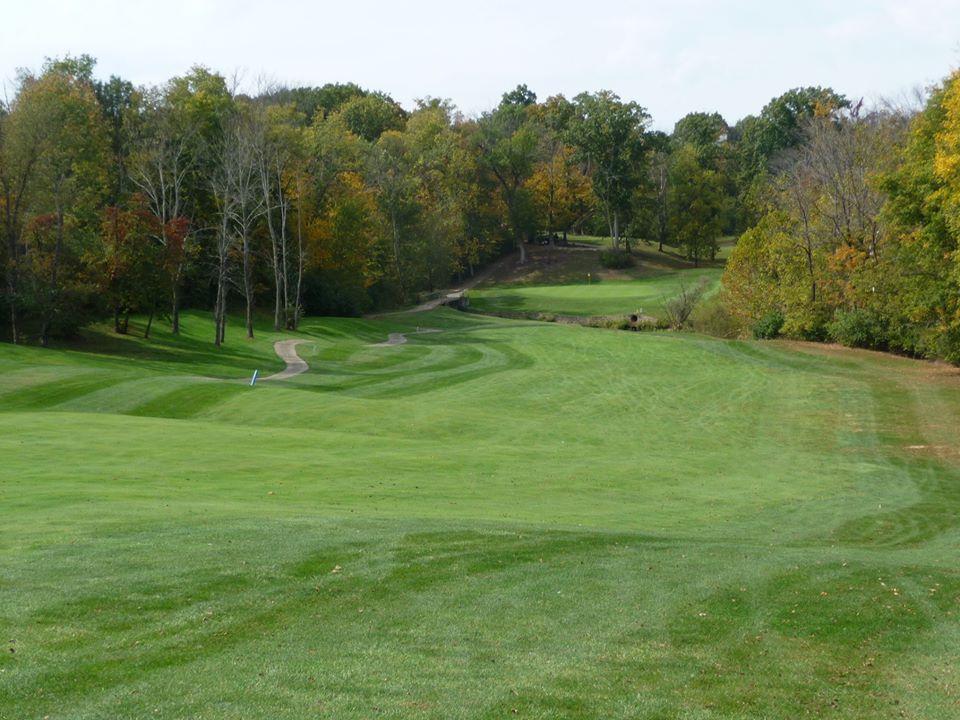 About Beech Creek Golf Course
The par-70 Beech Creek Golf Course in Cincinnati, Ohio, measures over 5,900 yards from the back tees. It was designed by Joe Macke and Tom Macke and opened for play in 1995.
The shorter length of our golf course along with our affordable anytime rates make Beech Creek Golf Course your best choice for outdoor recreation. Our golf course features rolling hills, magnificent fairways, and a healthy challenge.
There is always a new reason to enjoy a day of golf and fun times with family and friends at Beech Creek Golf Course. Golf is the ideal way to enjoy the outdoors and the company of others.
| Hole | 1 | 2 | 3 | 4 | 5 | 6 | 7 | 8 | 9 | Out |
| --- | --- | --- | --- | --- | --- | --- | --- | --- | --- | --- |
| Blue (66.7/114) | 326 | 140 | 520 | 258 | 323 | 183 | 537 | 309 | 169 | 2765 |
| White (M:65.0/111 W:69.6/118) | 312 | 134 | 506 | 252 | 280 | 151 | 537 | 288 | 133 | 2593 |
| Yellow (M:62.4/97 W:65.0/118) | 284 | 89 | 460 | 242 | 264 | 133 | 403 | 249 | 95 | 2219 |
| Men's HDCP | 4 | 3 | 2 | 9 | 7 | 6 | 1 | 5 | 8 | |
| | | | | | | | | | | |
| Par | 4 | 3 | 5 | 4 | 4 | 3 | 5 | 4 | 3 | 35 |
| | | | | | | | | | | |
| Red (M:60.1/91 W:61.1/108) | 261 | 84 | 320 | 160 | 231 | 115 | 403 | 210 | 95 | 1879 |
| Par | 4 | 3 | 5 | 4 | 4 | 3 | 5 | 4 | 3 | 35 |
| Ladies' HDCP | 4 | 6 | 2 | 9 | 5 | 7 | 1 | 3 | 8 | |
| Hole | 10 | 11 | 12 | 13 | 14 | 15 | 16 | 17 | 18 | In | Total |
| --- | --- | --- | --- | --- | --- | --- | --- | --- | --- | --- | --- |
| Blue (66.7/114) | 326 | 140 | 520 | 258 | 323 | 240 | 386 | 309 | 169 | 2671 | 5436 |
| White (M:65.0/111 W:69.6/118) | 312 | 134 | 506 | 252 | 280 | 213 | 358 | 288 | 133 | 2476 | 5069 |
| Yellow (M:62.4/97 W:65.0/118) | 284 | 89 | 460 | 242 | 264 | 203 | 308 | 249 | 95 | 2194 | 4413 |
| Men's HDCP | 4 | 3 | 2 | 9 | 6 | 8 | 1 | 5 | 7 | | |
| | | | | | | | | | | | |
| Par | 4 | 3 | 5 | 4 | 4 | 4 | 4 | 4 | 3 | 35 | 70 |
| | | | | | | | | | | | |
| Red (M:60.1/91 W:61.1/108) | 261 | 84 | 320 | 160 | 231 | 196 | 308 | 210 | 95 | 1865 | 3744 |
| Par | 4 | 3 | 5 | 4 | 4 | 4 | 4 | 4 | 3 | 35 | 70 |
| Ladies' HDCP | 4 | 6 | 2 | 9 | 5 | 7 | 1 | 3 | 8 | | |
Course Gallery